Southeast Venture 2022: The Year in Review
As we kick off this new year, let's take a look at all that Southeast Venture accomplished last year in 2022: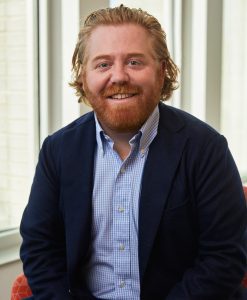 A new principal joined the partner team
Lee White, who joined Southeast Venture in 2011 – first as a property manager and then as a broker – was announced as a partner of the firm in February. From his brokerage background, Lee gained particular expertise in infill development opportunities and a deep understanding of local existing entitlements and zoning processes. As a new partner, Lee will assist in the acquisition and execution of the company's development projects. He has been a great addition to the leadership team!
June Lake made progress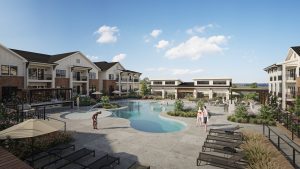 After years of planning, June Lake progressed immensely in 2022. Construction started on the new I-65 interchange at what is to be called June Lake Boulevard. Construction also started on 28 single-family homes by Tudor Building Group, 400 single-family homes by Signature Homes, and a 10-building, 227-unit multifamily development, Solstice at June Lake. Additionally, Hy-Vee has announced June Lake as the location of their first grocery store in Tennessee with construction expected to start in 2023.
Joined a prestigious network
Southeast Venture recently joined CORFAC International, a global network of independent commercial real estate firms. Membership will give us the opportunity to collaborate with over 75 firms spanning the U.S., Canada and international markets. Since the network only admits one firm per metro area, we are the only Middle Tennessee representatives.
Made some great new hires
We grew our team quite a bit this year! Four people joined the SV Design team: Architect Jeff Senatore, and Designers Natasha Hagan, Lindsey Jeter and Emily Hall. The Property Management team added Josh Simpson and Zach Hogan, as well as maintenance technician Marc Stevens. And last but not least, Tom Corcoran joined the team as a broker.
Started new design projects in new places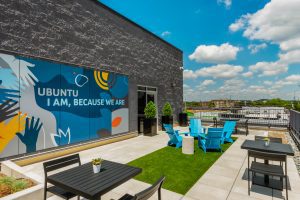 This year SV Design started work on approximately 2,000 new apartment units in Nashville and Middle Tennessee as well as expanding into Ohio, Texas, North Carolina, and Florida. Notable projects include Solstice at June Lake, Rock Block Flats, and Austin Homes Phase 3.
We also completed design a number of design projects, including Sixth South in SoBro and Y-CAP Nashville's renovated community center.
Expanded our property management portfolio
This year, we added over 562,000 square feet of property to our management portfolio – a 44% increase. We also expanded our property management services into Kentucky. New property additions include the Allston in Brentwood and Buckhead Square in Bowling Green, K.Y.
SV Design recognized for excellent Interiors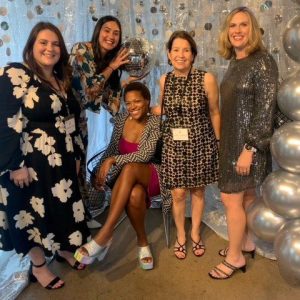 The SV Design team proudly accepted an award from the Nashville chapter of the International Interior Design Association (IIDA) for the design of multifamily development Bells Bluff, which focuses on "wellness through nature." The team won the "Best of Mixed Use Multi-Family" award for the third time in a row.
And most importantly: we had fun!
We started the year with our first Lunch + Connect in March, a company-wide communications meeting, which we now have every month. SV Design hosted two of their frequent consulting partners for a happy hour featuring craft beer and cookies in April. The office surprised veteran broker Coleman Boyd for his 90th birthday in August. The brokerage team traveled to Lexington, KY for Keeneland's Fall Meet in October. We also had Tennessee Yoga Company lead us in office yoga followed by wine and charcuterie in November.
2023 is set to be a big year with the completion of the new June Lake Interchange, along with the first phase of the Solstice apartments and single-family homes at June Lake. We are also looking forward to the new opportunities that our membership in CORFAC will bring, and much more.
Wishing you a successful new year!