Partner Profile: Axson West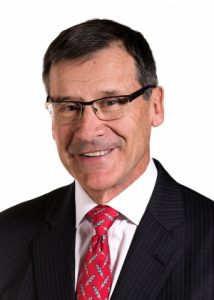 Axson West has been in commercial real estate for almost 40 years. He joined Southeast Venture in 1988 and became partner 1991. He previously served as Southeast Venture's managing broker for 12 years and was integral in recruiting the company's current brokers. Before the internet, he built his brand as Middle Tennessee's land transaction specialist by publishing the Middle Tennessee Site Availability Guide from 1988 to 2002, which tracked commercial property sales in the region each year. While he is still mostly focused on land sales, he also works in owner and tenant representation in both the office and industrial sectors.
Here's some more insights from Axson on Southeast Venture, Nashville and the commercial real estate industry:
What changes have you seen in the company in the time you've been here?
Early in my history with Southeast Venture, four recessions ago, the company suffered during an economic downturn and we had to drop our development business and focus on fee for services to recoup. But over the next decade we grew and expanded our services, and today we are back in the development business with some successful projects under our belt and more in the pipeline.
Our design services have grown exponentially, especially in the interior design department. In general, we have more of a team-based, collaborative approach than ever before – 80 percent of our brokerage transactions come from a team of brokers, rather than just one broker on his own. There is also a great collaboration between the brokerage and design divisions. Many of the projects that design gets come in from the brokerage department, and vice versa.
We're serving our client's in more and different ways than ever before. I look forward to coming to work every day.
What trends are you seeing in commercial real estate?
In the last eight years, we are seeing companies moving back downtown. Who would have predicted that Maryland Farms would have a higher office vacancy than MetroCenter for 2018?
When I was first getting into the business, everyone was moving out of downtown. Now large companies like Amazon and Alliance-Bernstein are building their hubs right downtown, and people are living and shopping there. Two large grocery stores will be opening inside the CBD this year.
More generally, we're waiting to see what happens with big box retail and online retail. When I sell land, big box retail centers aren't a prospect anymore, which is quite an interesting switch to see.
I'm also just blown away by the amount of information available at our fingertips nowadays. When I got into the business, we were still using carbon paper, we had to re-type whole documents when changes needed to be made, and we had to send clients blueprints and documents by mail. We used to have to call up people and find out what's available. Now, we can search databases and send email blasts. We can use Google Earth to "drive" around the property without even getting into our cars. We can serve customers so much better now that we have these technologies on hand, and they allow us to do more in one day than we used to do in a week.
What has been your favorite project/development in your time with Southeast Venture?
I'm part of a team that is working to maximize the value of the Alexander Property as it develops in Spring Hill. This will be a 780 acre master-planned community incorporating 3,000 homes, 1.5 million square feet of retail, and 4 million square feet of office space. A new interstate interchange has just been awarded federal funding. We believe it is going to relieve a lot of traffic and ultimately bring good jobs to Spring Hill where residents won't need to drive to Nashville or even Cool Springs to go to work.
Another project that comes to mind, even though it was 20 years ago, was the work I did for Peffen Machine Company. The owner was having to deal with multiple issues that were coming down on him all at once, and we were able to serve him on multiple fronts. We negotiated the sale of his 6th Ave. South property to MDHA so that the Bridgestone Arena could be built. We represented him in purchasing a new site in Cockrill Bend and acted as his architect and development manager to ensure that the project was delivered on time and on budget. It wasn't the biggest project I have ever done, but it's one I'm really proud of.
What project/development are you most looking forward to in the rest of 2019?
I hate to name just one because it's going to be an exciting year. I'm looking forward to leasing out the next building for H.G. Hill Company in Brentwood with Greg Coleman, as well as helping a friend lease 3,500 square feet in the Music Row area. I'm going to be selling a couple of buildings in the airport market with Michael Finucane, a site in Germantown and another in East Nashville with Lee White, to name a few.
What's your favorite thing about Nashville?
If I had to name just one thing, it would be the Cumberland River. People don't realize how beautiful it is, but I do. I love to fish, and it's been cleaned up a lot over the past 30 years. It's a great asset for the city – that's why downtown is where it is.
Vanderbilt is also a big reason for Nashville's growth and quality of life. People go to school there, then don't leave, and they bring their talents to the city in all industries. I would not be here if it were not for Vanderbilt.
Where do you think commercial real estate is headed in the next five+ years?
I think we're going to see more mixed-use, walkable communities, which will bring together retail, office and residential space so that people don't have to use their cars. We're seeing a lot of these buildings becoming rideshare-friendly, with places for pickup and drop-off.  I have clients saying, "We'll never build another parking garage," because they're not being used enough.
In the office sector, we're seeing a preference for more open collaborative spaces, but there is always going to be a need for a few hard-walled offices and conference rooms because private meetings and confidential conversations are not going away.
Specifically in Nashville, at the trajectory we're seeing now, I don't see it slowing down anytime soon.