Design Spotlight: Southpoint Surgery Center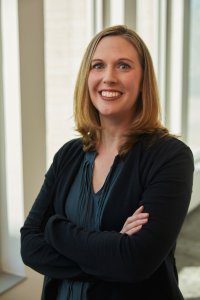 SV Design recently completed the interior design for Southpoint Surgery Center, a state-of-the-art healthcare facility located in Durham, NC. The 22,000 sq. ft. surgery center is housed in a contemporary medical office building and offers a wide range of specialties, including Ortho, Spine, Ophthalmology, ENT, GYN, General, Urology, Plastics, Podiatry, Vascular, and Pain.
Monika Whittenburg, SV Design Senior Interior Designer, and the lead Interior Designer on the project, shared some insights into the project:
What was the inspiration behind the interior design for Southpoint Surgery Center?
The interior design was inspired by the sleek and modern aesthetic of the building's exterior, and the Class-A finishes used in the common areas. To achieve a complementary look, we incorporated black metal accents, a contemporary white and blue palette, and warm grey wood tones throughout the facility.
How did the design team balance functionality and aesthetics in this healthcare facility?
It was definitely a careful balance. We utilized quality vinyl flooring with a residential-style wood visual that met healthcare requirements while maintaining a pleasing aesthetic. Cleanable wood furniture and casework laminates were chosen to enhance the design, and cleanable paints in soothing blues, a play on the client's branding) were used to create a contemporary and functional atmosphere.
Today, there are so many great finish options that meet healthcare requirements. Providing a pleasing aesthetic and still meeting healthcare codes and cleanability requirements from facilities used to be a much bigger challenge.
What were some of the biggest challenges the design team faced when working on this project? 
One of the biggest challenges was ensuring that the design elements aligned with the building's aesthetics while staying within the budget. One of the ways we did that was by utilizing higher priced items in areas that had the most impact and while using standard-priced products in other areas. 
Additionally, designing a healthcare project from a long distance presented its own set of challenges. Even though Nashville is home to many Healthcare company headquarters, the actual clinics, hospitals, and surgery centers can be located throughout the United States, so you aren't always in the same city as your projects. I've been designing healthcare for 17 years and have learned the best questions to ask and what information to gather to make appropriate finish and material selections from afar. Virtual meetings have also helped.
How does the interior design of Southpoint Surgery Center contribute to a positive patient experience?
The design intent was to provide a quality product, modern design aesthetic, and an overall soothing experience. Some of those design decisions included:
A color palette of blues and contrasting wood tones, both of which create a calming effect.
Insets of carpet in an organic pattern which not only add visual interest but also provide acoustic properties for a peaceful environment.
Circular light fixtures which help a patient feel calmer
The other key factor in creating a positive patient experience was the architectural layout. Clear sightlines to the reception desk upon entry, private check-in areas for the patients, and well-designed patient recovery rooms are important to the patient experience and were imperative in our design.
What excited you about working on this project?
I was most excited about the opportunity to create a brand-new facility for the healthcare group and expand its reach. The modern and high-end design of the building shell provided a great foundation for the design team to work with and unleash their creativity.