Silo Bend Wins 2023 NAIOP Nashville Award
We are thrilled and very proud to announce that Silo Bend, the 38-acre community in The Nations master-planned and developed by Southeast Venture, has won a 2023 development award for Mixed Use Development of the Year from the Nashville chapter of NAIOP!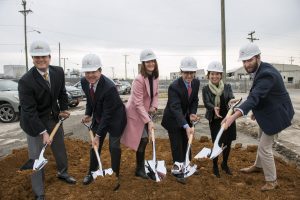 Silo Bend started in 2016 with the idea of building a community that would transform The Nations neighborhood into a new, attractive place to live, work and shop. It was really the only mixed-use development happening in that area at that time. We broke ground in 2017 and began building the community in phases. Now it comprises a multifamily rental development, two condominium buildings, single-family and townhomes, and retail and office space.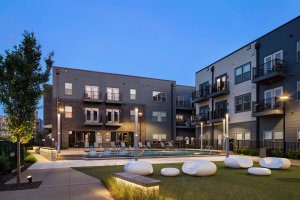 The flagship development for the new community, The Flats at Silo Bend is an 193-unit apartment complex with 3,500 square feet of ground floor retail space, designed and developed by Southeast Venture and completed in 2019. The anchor tenant, which opened in 2021, is Silo Market, a neighborhood-focused, urban market committed to providing quality groceries, prepared foods, craft beer and other essentials. The property was sold in mid-2021 for an impressive $292,746 per unit ($56.6 million total).
The first condo building completed in 2020 is Silo House, which has 103 units. Upon opening, the units sold out almost immediately. Silo West, the other 165-unit, 140,000-square-foot condo building was completed in 2022 and is already fully sold out. Both were developed by Evergreen Real Estate and designed by SV Design.
Silo Cottages includes 49 single-family and townhomes, which were finished in 2020 and fully sold by the time of opening. They were also developed by Evergreen and designed by SV Design.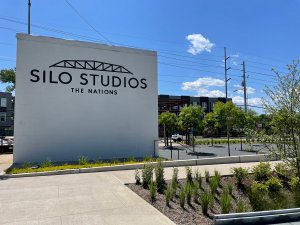 A central component of the Silo Bend community is Silo Studios, an 80,000-square-foot retail and office complex converted from an abandoned lumber mill. Developed by Flyway and designed by SV Design, it was completed in 2020. Southeast Venture purchased the property and took over the leasing in 2021. Now it's almost 75% leased with office tenants including Specialty Dental Brands, Onsite Workshops and Center for Nonprofit Management, as well as retail tenants including F-45 Training and UrbanSweat.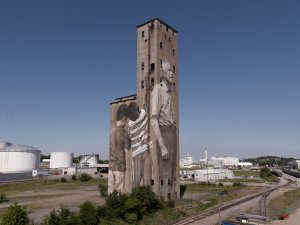 The featured landmark that crowns the whole community is the 200-foot-tall Silo covered with murals of local residents, including Lee Estes who was 91 at the time it was created. In partnership with Metro Councilwoman Mary Carolyn Roberts and art consultant Brian Greif, we commissioned acclaimed Australian artist Guido van Helten to paint the murals. This momument is the inspiration for the community's name, along with its location along the bend of the Cumberland River.
This development has been a work in progress for several years now, and we are excited to be finalizing it. Now more development has sprung up around Silo Bend, which has only further brought to life our vision of a thriving community in North Nashville. We are grateful for NAIOP's recognition of all our hard work!