New Broker Joins the Southeast Venture Team
Tom Corcoran brings almost 10 years of varied sales and brokerage experience to the team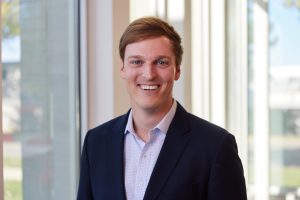 Southeast Venture announced today the addition of Tom Corcoran to its brokerage team. He will primarily focus on office leasing, representing both landlords and tenants.
Corcoran comes to Southeast Venture from Crestview Funds, LLC where he worked most recently as an asset manager, overseeing a portfolio of 750,000 square feet of office and retail properties in the Greater Nashville area as well as negotiating leases and property sales. Previously he was a manager of acquisitions there, identifying and underwriting potential commercial property acquisition opportunities in the $5- to $25-million range, primarily in the office and retail sectors. Before Crestview, he worked for Lockton Companies, LLC in Dallas, Texas as an account manager, brokering property and casualty insurance for middle market and national client accounts. He started there as an account administrator handling middle market clients.
"Tom has a very well-rounded resume having worked in various types of sales and virtually all aspects of brokerage, from acquisition research to lease and sale negotiation to asset management," said Southeast Venture Principal and Managing Broker Greg Coleman. "His experience and perspective make him a great addition to the team."
He graduated from Southern Methodist University with a bachelor's in business administration specializing in risk management and insurance.
This news appeared in the Nashville Post, Nashville Ledger and Main Street Nashville.