Wisdom From a True Real Estate Veteran
Coleman Boyd has one of Nashville's longest careers in real estate: 61 years (and still counting)! For the last 17, he has been working with Southeast Venture, focusing on land sales.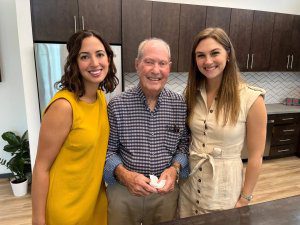 As he celebrates his 90th birthday, he is STILL working every day. He has made such an impact on this company, and it has equally made an impact on him. 
"Being with this company is like being in a good family – we share the same values and everyone is so understanding," he says. "I enjoy helping. Being around these young people makes me feel young. I like that I'm still learning and making money, even at my age."
On this momentous occasion, he shared some of his best advice for his younger colleagues:
Help others succeed
I feel the need to help people. When new people come here, I try to bring them in on the listings I have and give them part of the commission to help them get started. It doesn't have to be a competition.
Build trust with everyone you work with
I do this by being honest. You don't want to go out telling people things that are not true. It's unbecoming of a good person. My clients are like family to me, and I do everything in my power to serve them well. For example, one of my clients that I helped relocate to a more affordable location said they would have gone bankrupt if it wasn't for me. I took their cause to heart, and I have kept a close relationship with them since.
Stay vigilant
Keep hunting around, keep searching. Real estate is about product, and there are all different kinds of real estate products: land, industrial, retail, and office. Zero in on the kind you like and go with it. As the saying goes, "You can't get the game on the table if you're not hunting."
When I started in this business in 1961, it was very different. Before computers and cell phones it was a lot harder to find listings. I had to drive around town looking for 'For Sale' signs – I couldn't just look at listings online. But over the years I've learned and adapted, which has kept me successful.
Never give up
I grew up on a farm right outside of Nashville with good parents. I would work the farm with my father who had the strongest work ethic. He would say, "You can't go anywhere when you're sitting down. You got to keep your feet on the ground." This has always stuck with me, and it's part of why I keep working. I definitely take after my dad.
Make it count
I hope for anyone at my age that they look back and think "Man, I had a great time in my life." It certainly hasn't been easy – I've had good days and bad days, good months and bad months. But overall, I've enjoyed it.