Profile: Coleman Boyd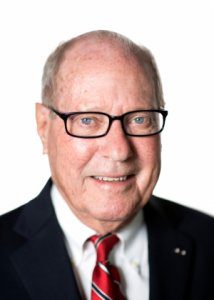 Coleman Boyd is a broker at Southeast Venture, specializing in land sales. He got his start in residential real estate before switching to commercial to join the Frank L. Smith Company – the second industrial and commercial real estate company in Nashville at the time. When that firm went through a series of mergers, Coleman joined Southeast Venture, where he's been for the past 15 years. At 87 years young, this Nashville native has been in the real estate business for 58 years and is still working full-time – perhaps making him the oldest active broker in Nashville. 
Here's some insight from Coleman on Southeast Venture, Nashville and the commercial real estate industry: 
What changes have you seen in the commercial real estate industry over the years?
There are so many more agents these days than there were when I started. Property and land sales have become so much more competitive. And properties are getting harder to sell, as the prices keep going up. You have to be able to maintain the energy that it takes to be in this business.
Obviously at my age, many of my contacts are passing away, but I'm able to continue working with their friends and colleagues.
What trends are you seeing in commercial real estate now?
I've noticed that there are more and more investor-buyers entering the market – a lot of people are buying properties for the purpose of leasing – rather than owner-users. In Nashville's booming economy it's no surprise, as commercial real estate is one of the most stable investments.
The Nashville market has grown by leaps and bounds now that it's a city recognized worldwide. Becoming "Music City" put Nashville on the map, attracting tourists from all over the world.  The influx of tourists is also in part because Nashville is so easy to get to – over 50 percent of the U.S. population is located within 600 miles of Nashville.
What has been your favorite thing about your time with Southeast Venture?
I have worked with some great clients. Clients are my #1 focus, and I do my best to satisfy their needs. They recognize I'm working for them, and they tend to stick with me. That loyalty is very rewarding to me because it shows I'm doing the best work possible.  At Southeast Venture, I am surrounded by people that have that same outlook – it goes back to our Mission Statement – building value by valuing relationships.  The people at Southeast Venture are like family to me and that's the best part about working there. 
What project/development are you most looking forward to in the rest of 2019 and/or 2020?
I'm excited to see what comes about – I don't know yet what's coming. All I know is it's like fishing: if you don't keep your line in the water, you won't catch any fish.
What's your favorite thing about Nashville?
I don't get out and do things like I used to, but I like everything about Nashville. I have deep roots here – I grew up on a farm in White's Creek near Fontanel. I've seen its growth over so many years, and it's just amazing how far it's come. Also, Nashville has some of the best barbeque in the South. 
Where do you think Nashville's commercial real estate is headed in the next five+ years?
For one, Nashville is running out of industrial land. Since the city is built in a basin, you need to work around the topography – industrial properties need to be on flatter land. So the city might run into that issue as it expands.
However, the fact that the city keeps expanding into new areas is a great sign of growth. For example, there didn't used to be anything over in the Centennial/Nations area, and now it's becoming a thriving community.