40 Years of Southeast Venture: The First Decade
In honor of Southeast Venture's 40th anniversary this year, we are recounting the history of the firm decade-by-decade to recognize the leaders and achievements that this firm has seen over the past 40 years.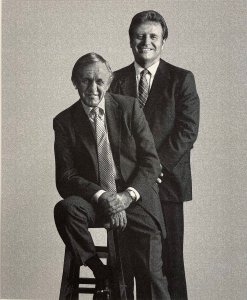 Southeast Venture was founded in 1981 by Dick Sorenson and George Volkert.  Dick, a veteran real estate developer from Atlanta, and George, a real estate broker from Nashville, met while working for Cousins Properties in Atlanta. After making the move back to his hometown, George joined forces with Dick to build a real estate company with a culture of honesty, integrity and excellence.
The first decade after the company's founding was spent establishing and building Southeast Venture's reputation as one of the go-to commercial real estate firms in Middle Tennessee.
Here are a few key company milestones during this first decade:
1981
Southeast Venture commences construction on its first development, Perimeter Park, an office complex in South Nashville anchored by four multi-tenant office buildings. The bank funding the project asked Southeast Venture to step in and help turn the struggling development around. Completed in 1987, Southeast Venture continued to handle the leasing, property management and landscaping for the development.
Between 1985 and 1988
In the years between 1985 and 1988, Southeast Venture makes 4 key hires, Wood Caldwell, Paul Plummer, Cam Sorenson (Dick's son), and Axson West. In 1985, Caldwell joined Southeast Venture as a project manager, directing all land developments for the company. In the following year (1986), Plummer was hired as director of the Cool Springs development. The next year (1987), Sorenson joined Southeast Venture as a project manager for the Cool Springs development. Finally, in 1988, West joined Southeast Venture and became one of the company's first brokers. These four leaders continue to shape the growth and success of the company today.
1988
Construction begins on Cool Springs, the massive, 1,100 acre mixed-use development that we all know well today. Southeast Venture was, in fact, the original developer of this Franklin landmark, which Sorenson and Volkert along with partners Gerry Ezell and Gary Baker, envisioned from undeveloped farmland.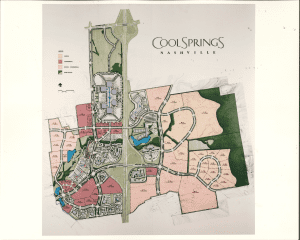 The project began with a new interchange off I-65 that would eventually connect to the new development, which would become one of the first major hubs in the region outside of Davidson County. Shortly after the interchange was approved by the Tennessee Department of Transportation, a Chattanooga-based development firm CBL & Associates bought land and committed to building what is now the Cool Springs Galleria, which opened in 1991.
Cool Springs is now home to 7.5 million square feet of office and retail space, which extends on both sides of I-65.
Southeast Venture's first large-scale project, it helped to establish the company as an expert in master planning and land development.
Stay tuned to learn about Southeast Venture's second decade!