Silo Studios Adds Two Exciting New Restaurant Tenants
Barracuda Taco Stand and Brotherly Love Bring New Dining Options to The Nations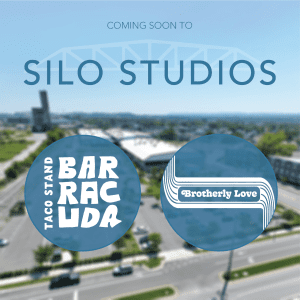 NASHVILLE, Tenn., August 23, 2023 – Southeast Venture-owned Silo Studios, a vibrant mixed-use building nestled within the thriving Silo Bend community, is thrilled to announce the addition of two enticing food and drink destinations, Barracuda Taco Stand and Brotherly Love, further enriching the diverse dining options available to the Nations.
Hailing from Louisiana, Barracuda Taco Stand is set to make its Nashville debut as it prepares to open its fourth location in Silo Studios' courtyard. Renowned for its neighborhood taco stand concept and inviting margarita garden, Barracuda Taco Stand offers outdoor dining and takeout options. With three successful establishments in Louisiana, this expansion marks the brand's first venture into Nashville with an anticipated opening in the spring of 2024.
"Barracuda Taco Stand is thrilled to join the vibrant culinary scene of Nashville and become a part of the Silo Bend community," said Brett Jones, Founder of Barracuda Taco Stand. "We look forward to introducing our unique flavors and lively atmosphere to this dynamic city."
Bringing a taste of Philadelphia to Music City, Brotherly Love is an exciting new concept centered around authentic Philadelphia cheese steaks and a full bar, complemented by a welcoming family and sports-oriented ambiance. Brotherly Love promises to be a vibrant gathering place and is expected to open on the ground floor of Silo Studios in early 2024.
"We are excited to bring the City of Brotherly Love's authentic cuisine directly to the heart of Nashville," said John Hoffman, Owner at Brotherly Love Cheesesteaks. "Our team has spent the past few years developing a concept where high quality food and delightful moments intersect. The Nations is primed for a premium dining experience, and we aim to deliver."
Jon Petty, Southeast Venture Principal, expressed his enthusiasm for these new additions, stating, "We are delighted to bring both these neighborhood-centric concepts to Silo Bend and the Nations community. These restaurant tenants will undoubtedly contribute to the unique character and vibrant atmosphere that Silo Studios and the broader Silo Bend community embody."
Silo Studios, spanning 72,000 square feet, continues to emerge as a focal point of the Silo Bend neighborhood. Southeast Venture has been handling leasing since the firm, in partnership with Ryan Moses, acquired the asset in 2021. With space still available for lease, the building boasts ample parking, an inviting outdoor courtyard complete with gathering spaces and seating steps, and unparalleled proximity to a variety of local restaurants, coffee shops, breweries, and retail options. Current tenants include F-45 Training, Urban Sweat, Specialty Dental Brands, Onsite Workshops, and Center for Nonprofit Management.
Originally transformed from an abandoned lumber mill, Silo Studios is an integral component of the expansive 38-acre Silo Bend community, master-planned by Southeast Venture. The development also features two condominium buildings, a multifamily complex with ground-floor retail, and a collection of 49 single-family and townhomes.
This announcement was published on the Nashville Post,  City Now Next, Nashville Business Journal, and the Tennessean.