Partner Profile: Michael Finucane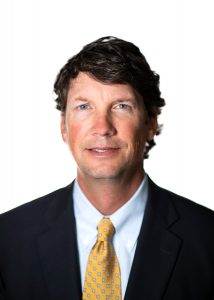 With over 27 years in real estate, Michael Finucane has been with Southeast Venture for 24 of those years. He started out on the brokerage team and became a principal in 2011. His main areas of focus are office leasing and industrial property sales. As an avid outdoorsman that has worked on a family farm throughout his life, he has additional expertise in – and a passion for – selling recreational land such as rural farms and hunting/fishing properties.
Here's more about Michael and his career:
What are some major developments you've worked with? What impact do you think they've had on Nashville?
I was part of the leasing team for the Hill Center in Green Hills, which is one of the first mixed-use projects in Nashville. It was a true conversion of a large, suburban retail shopping center into a dynamic, mixed-use project in the heart of Green Hills. Of course, that was the start of an ongoing trend here in Nashville.
Another project that will impact Middle Tennessee, that I'm hoping to be involved with is June Lake down in Spring Hill, Tennessee. We are still a little ways out, but once the office development components are underway there, we will be working on some office leasing. In addition, I am always listening for other tenant needs and bringing them to the development team.
What would you say got you to this point in your career?
I am a Nashville native, so having a good understanding of the markets has been very helpful. I also had great mentors, starting with Jeff Haynes, who gave me my first job as a property manager with the Trammell Crow Company. Jeff has one of the sharpest minds in real estate in Nashville. Then I came to Southeast Venture and worked under the late Randy Parham. He taught me everything I needed to know about the commercial leasing world. He was methodical, detailed and one of the hardest working individuals in our business. I could not have asked for better mentors.
But I wouldn't be here at Southeast Venture, let alone a partner of the firm, if it wasn't for Axson West who brought me in. I'm a very loyal person and wasn't necessarily looking for a new job, but Axson reached out and offered me an opportunity to get into the brokerage business. I had been in property management for a few years at that point, which was an incredible segue into brokerage. I learned the real estate business from the ground up – the relationships that are involved and the terminology. It's hard to jump right into brokerage when you don't know much about it, so having this background made all the difference in my ability to make deals and handle transactions.
What market trends are you seeing right now in Nashville?
More and more people are looking for recreational land as Nashville grows and rural areas in Middle Tennessee within an hour of Nashville are becoming more enticing. There are people who want a nice place to get away from the city, especially following the Pandemic. And there are the true outdoorsmen like me who want a private place to hunt and fish within a close proximity to Nashville.
Also, as inflation worsens, people are investing in land as a more stable, long-term asset. Farm properties can generate commodity returns that are very favorable right now. If you can find some property to enjoy the outdoors, and some of that land can be farmed, it's a great investment.
In the office sector, we're seeing moves back to suburban office parks post-pandemic. With more hybrid work models, companies are keeping office space, but it might not be the traditional 10,000-square-foot space. Many are downsizing and looking for high-quality, affordable space, which is more likely to be found in the suburbs in more established buildings that are already subdivided. Plus, they have cheaper rent, they're easier to get to, parking is included, etc. Maryland Farms in Brentwood, for instance, has over time been re-positioned for smaller tenants.
In general, there are more office tenants looking for 5,000 square feet than 50,000. The high-rises being built downtown tend to be for bigger tenants that want much larger footprints. We will continue to see larger companies relocate to Nashville and take those downtown spaces. There's a lot of activity in the office leasing world, but the industry is going to take some time for leases to roll over post pandemic.