MDHA Approves Plans for Union Street Hotel
Vacant office building at 333 Union Street to become 10-story Radisson RED Nashville Arts District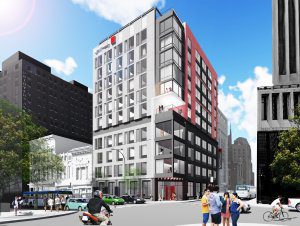 The plans for a 10-story hotel located at 333 Union Street in the Arts District of downtown Nashville were approved by the Metropolitan Development and Housing Authority (MDHA). The building was designed by Southeast Venture, and DAV Construction will serve as general contractor, with EPOCH Design & Construction overseeing the project as the owner's representative. 
The project will entail a vertical expansion of six stories atop the existing four-story vacant office building, owned by MANEK Holdings, LLC and formerly occupied by savings and loans company Metropolitan Federal. Situated on the corner of 4th Avenue and Union Street – also known as the site of Andrew Jackson's first office building in Nashville – the new Radisson RED hotel will be in close proximity to three other hotels: the Fairlane, Bobby and DoubleTree. The original structure was built in the 1950s. 
"We sought to design a building that balances between the character of the surrounding historic structures and the Radisson RED brand," said Southeast Venture design director Nathan Narwold. "We are thrilled to be a part of such a challenging project."
Managed by Radisson Hotel Group, the hotel features 116 guest rooms, rooftop amenities and a basement speakeasy-style bar. The Radisson RED brand has hotels in operation in multiple locations throughout the Americas including Minneapolis, Minn.; Portland, Ore.; Lima, Peru and Campinas, Brazil. There are also hotels under development in Miami, Los Angeles and San Francisco, along with Nashville. 
"Radisson RED, an upscale select-service hotel, is designed for vibrant, urban markets, making Nashville a perfect fit," said Terry Sanders, chief development officer, Americas, Radisson Hotel Group. "We believe the brand's blend of bold design, informal services and inviting social spaces will be very appealing to the city's leisure and business travelers."