Missing Randy Parham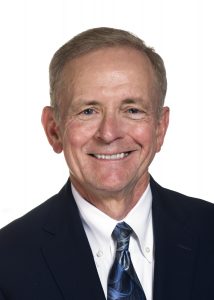 Randall "Randy" Parham, a principal at Southeast Venture and a leader in Nashville's commercial real estate industry, as well as an active community volunteer, died early Thursday morning, July 25, at age 64. He is survived by his wife, Jana Lisle Parham.
"Randy was one of the smartest and kindest people I've ever known, as well as being a natural in this business. He could do it all – brokerage, development, property management, design – kind of a Renaissance Man of commercial real estate. And just a good man, period. Randy cared about taking care of people, including the people in this firm and his clients, as well as his family and friends. He was a man people looked up to and he will be greatly missed by many," said Southeast Venture Principal Wood Caldwell.
Recognized as a "Power Leader in Commercial Real Estate" by the Nashville Business Journal for many years, including this year, Parham's specialties included real estate brokerage, project development and property management. He oversaw Southeast Venture's real estate services, including property management and brokerage. Also very active in the Nashville community, he is a former chairman of the board of Fifty Forward, former president of Richland Country Club and Nashville City Club and an alumnus of Leadership Nashville, among other contributions.
A registered architect, Parham began his career at the Gresham Smith architecture and engineering firm after earning architecture and environmental design degrees from Auburn University in 1978. While at Gresham Smith, he met two of his future partners at Southeast Venture: fellow principals Caldwell, an engineer, and architect Paul Plummer. Caldwell and Plummer went on to join Southeast Venture a few years later and Parham forged a different path of handling real estate for Alladin Industries, a Nashville company that invented the thermos bottle and became equally famous for its illustrated metal lunchboxes.
"I knew Randy would do great things from the first time I met him," Plummer said. "He was one of those guys with a winning combination of intelligence, courage and kind-heartedness – someone who just wasn't going to give up, no matter what. And he never did. He went through some tough times at MetroCenter, when Nashville was not the booming town it is today, but because of his persistence and smarts, that part of town has become one of the great commercial real estate success stories in this city. That might be his greatest professional legacy, and Nashville is a better place because of it."
Alladin CEO Victor Johnson and Nashville developer Robert C. "Bobby" Mathews teamed up in 1971 to develop MetroCenter – Nashville's first master-planned, mixed-used business park –and leasing and management of the park became Parham's responsibility, a responsibility he kept after ownership of the park passed to Third National Bank during an economic downtown in the 1970s. Parham virtually single-handedly took care of the development, leasing and management of MetroCenter from the 1980s until he joined Southeast Venture as the company's fifth principal in 1997. (The other principals at that time were Caldwell, Plummer, Axson West and Cam Sorenson. Since that time, Todd Alexander, Michael Finucane and Jon Petty have joined the ranks of principals.)
With a stronger market and the resources of Southeast Venture behind it, MetroCenter began to emerge as a hot commercial real estate market in the early 2000s. The State of Tennessee, began to make major commitments to MetroCenter in 2004, when it chose the park for the first location of the Tennessee Education Lottery Corporation, and occupied a portion of the former Nortel Networks headquarters, which Parham helped to develop when he joined Alladin in the 1980s. These commitments were followed by the construction of a new 220,000-square-foot building for TennCare and a new 240,000-square-foot building for the Department of Labor in 2007 which Southeast Venture developed and then ultimately sold to the State of Tennessee. The State currently occupies approximately one million square feet of MetroCenter, employing approximately 2,500 people there, and Parham played the lead role in bringing this about.
MetroCenter's resurgence was furthered by several other high-profile commitments in which Parham was directly involved, including the Tennessee Titans' administrative offices and practice facility, which moved to MetroCenter in 1997, and the relocation of Watkins College of Art and Design, which purchased the vacant AMC movie theater and completed an adaptive reuse of the structure, adding student housing, art display and gallery area between 2001 and 2003.
Southeast Venture purchased the remaining vacant land and became the developer of MetroCenter in December 2007. The fall of 2018 saw the sale of the last two vacant parcels in MetroCenter, completing the almost 50-year development. Property tax revenue from MetroCenter has grown from $17,000 per year in 1971 to more than $13 million per year today, not including sales, franchise, excise and hotel taxes, among others.
Other major projects in which Parham played a leading role during his 22 years at Southeast Venture included the Alexander property development in Spring Hill, development of Mallory Park in Brentwood and development of HealthSpring's headquarters (now Cigna's headquarters).
"Randy was a deep well of information about real estate and Nashville, and he was always willing to share. Just a completely unselfish person and a great mentor to many, including me. He used to talk about the three things that guided him. One, there are no accidents. Two life does not end at death. And three, what you do makes a difference in the lives of others. And that's how Randy Parham lived his life. His leaving us has left a big hole in our lives," said Todd Alexander.