Neighborhood Spotlight: MetroCenter
The beginning
MetroCenter has a rich, nearly 50-year history – during which time it has played a visible and important role in Nashville's history and economic success.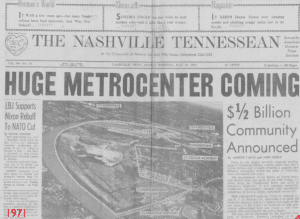 Covering 850 acres in the bend of the Cumberland River, just 13 blocks from downtown Nashville, MetroCenter was Nashville's first master-planned, mixed-use business community when it was announced in 1971. Assembling this much land so close to a city as large as Nashville would not have been easy, even in 1971, if not for its location in the 100-year flood plain of the Cumberland River, which had kept the property from being developed for commercial or residential use.
The development was made possible by the construction of a 3.2- mile levee and a storm water management system, which saved MetroCenter from the Nashville floods of 1979 and 2010.
The two minds behind the development were Victor S. Johnson Jr., owner of Aladdin Industries, and Robert C. "Bobby" Mathews, owner of Robert Mathews Company (now known as R.C. Matthews Construction Company and The Mathews Company commercial real estate brokerage). Since then, there have been several key players in MetroCenter's evolution, including Southeast Venture, which bought MetroCenter's 70 remaining undeveloped acres in 2007.
The downturn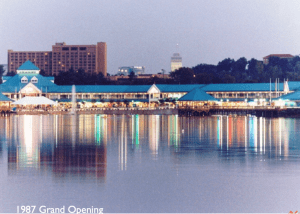 In 1987, after many tenants, including IBM, Nortel Networks, Piedmont Natural Gas and Comcast had moved to MetroCenter, the developer opened the "festival marketplace" Fountain Square on the property to add value and a greater sense of place to the development. The project brought a number of retail and restaurants concepts new to Nashville and it included 120,000 square feet of retail, four restaurants, a club called Heartthrob Cafe and the largest movie theater in Nashville, the AMC Fountain Square 14 screen multiplex. Unfortunately, the destination-retail concept was ultimately not successful and Fountain Square closed in 1990, though the space has been successfully converted to offices.
When Nortel Networks, in the throes of bankruptcy, ended its lease in 2003, MetroCenter's office vacancy rate reached almost 40 percent. Many proclaimed the time had come to "pull the finger out of the levee" and wrote off the development.
Finding its place, the rejuvenation of MetroCenter
But not everyone was ready to write MetroCenter's obituary. The State of Tennessee, began to make major commitments to MetroCenter in 2004, when it chose the park for the first location of the Tennessee Education Lottery Corporation (65,000 SF) and re-located the Department of Disability Services (200,000 SF) there. These commitments were followed with the construction of a new 220,000-square-foot building for TennCare and a new 240,000-square-foot building for the Department of Labor in 2007. The State currently occupies approximately 1,000,000 square feet of MetroCenter, employing approximately 2,500 people there.
MetroCenter's resurgence was furthered by several other high-profile commitments, including the Tennessee Titans' administrative offices and practice facility, which moved to MetroCenter in 1997, and the relocation of Watkins College of Art and Design, which purchased the vacant AMC movie theater and completed an adaptive reuse of the structure, adding student housing, art display and gallery area between 2001 and 2003.
A number of companies founded as startups in MetroCenter are now major employers in Nashville, including health management-services company Cigna/HealthSpring, which has grown from a single employee to more than 1,000 employees occupying a 225,000-square-foot office campus, and Aegis Sciences Corporation, whose 400 employees occupy a 125,000-square-foot campus.
The lasting impact
Southeast Venture purchased the remaining vacant land and became the developer of MetroCenter in 2007. The fall of 2018 saw the sale of the last two vacant parcels in MetroCenter, completing the almost 50-year development. MetroCenter is now a vibrant area, employing over 12,000 people, and a hotbed for infill residential development, with over 900 multifamily units in the development phase.
MetroCenter is also an important economic contributor to Nashville. With minimal investment by the City of Nashville, property tax revenue from MetroCenter has grown from $17,000 per year in 1971 to more than $13 million per year today, not including sales, franchise, excise and hotel taxes, among others.
If you find yourself in or near MetroCenter, be sure to stop by the taproom at Honky Tonk Brewing Co. or spend an afternoon volunteering with Second Harvest Food Bank.
Throughout its long history, MetroCenter has been through many owners, different marketing strategies and even natural disasters, but it has continued to prove its worth to the Nashville business community and the city's economy.
---
Southeast Venture: Leading Commercial Real Estate, Design & Development Creation & Growth in Middle TN
Our team of real estate brokers, designers, architects, project managers and more can lead your next project. Let's start creating, tell us a little bit about yourself below. We are excited to hear from you!