Neighborhood Spotlight: Midtown
Nashville Neighborhood Spotlight: Midtown
Nashville encompasses such an eclectic group of people — young and old, newcomers and natives — but one thing you're certain to find in any part of our city is a sense of community, and near the center of it all is the bustling Midtown district.  
With its close proximity to Belmont University, Vanderbilt University, office buildings, and local hospitals, Midtown is home to many young professionals, college students and musicians. Containing nearly 30 bars and restaurants, Midtown provides a more casual atmosphere for locals and students trying to escape the crowds of tourists that flood Lower Broadway nightly.
Where to eat, drink & play in Midtown
Nashville has become nationally known recently for the quality and variety of its restaurants, and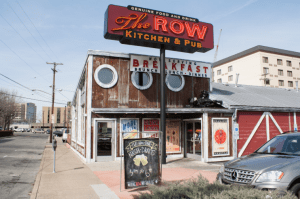 you'll find an outstanding sampling of dining options in Midtown, from authentic sports bars like Winners Bar & Grill and Losers Bar & Grill to iconic spots like Hattie B's Hot Chicken, Midtown Cafe, and the Catbird Seat.  There's something for everyone, with new hot spots opening frequently.
Midtown isn't just about bars and nightlife, it's also home to Centennial Park and The Parthenon — two of Nashville's most famous attractions. The Parthenon was inspired by Nashville's moniker as "Athens of the South." In the 1850s, long before the town was referred to as Music City, Nashville was regarded as a center of intellectual exchange — placing a large emphasis on, and subsidizing, many institutions of higher education. So, for Tennessee's Centennial Exposition, an exact replica of the original Parthenon in Athens, Greece, was constructed in 1897. Today, Nashville's Parthenon is a wonderful perch for people-watching in Centennial Park. On any given day, you'll see people enjoying Nashville's beautiful weather, taking a stroll through the park's green space, feeding the pigeons near the pond or going for a run on one of the many paths.
With numerous apartment and condominium complexes, Midtown is also a haven for young people just getting their footing in Nashville. The streets of Midtown are studded with hotels and lodging options, as well, perfect for visitors and parent's weekends at neighboring universities.  
In addition to all the activities these attractions offer, Midtown is home to Nashville's world-famous Music Row. The popularity of  WSM's Grand Ole Opry radio program positioned the city as a mecca for country music. In 1954, the first business on Music Row was created when Owen and Harold Bradley opened a small, makeshift studio on Sixteenth Avenue South. Not long after, an influx of music industry executives flocked to Music Row. RCA then decided that Music Row would be the best site for it's new Nashville recording facility, Studio B. The studio was built in 1957 and counts Elvis Presley among the stars to record there.
A great neighborhood to consider whether you're a college sports fan, musician, medical professional or someone who's simply looking to have a good time, Midtown embodies Nashville's reputation of a fun, upbeat community fused with history and character.
Southeast Venture Can Help Design, Develop & Sell Your Next Project in Midtown
From Downtown to Midtown to East Nashville and everywhere in between, our team of talented designers, architects, developers, real estate brokers and more can help lead you through your next project!
Reach out to our team today and let's get started.