New High Density Office Space in Mallory Park Alleviates Growing Employer Occupancy Costs
This press release was originally released on Oct. 10, 2016.
New High Density Office Space in Mallory Park Alleviates Growing Employer Occupancy Costs
Higher parking ratio featured in completed Phase I project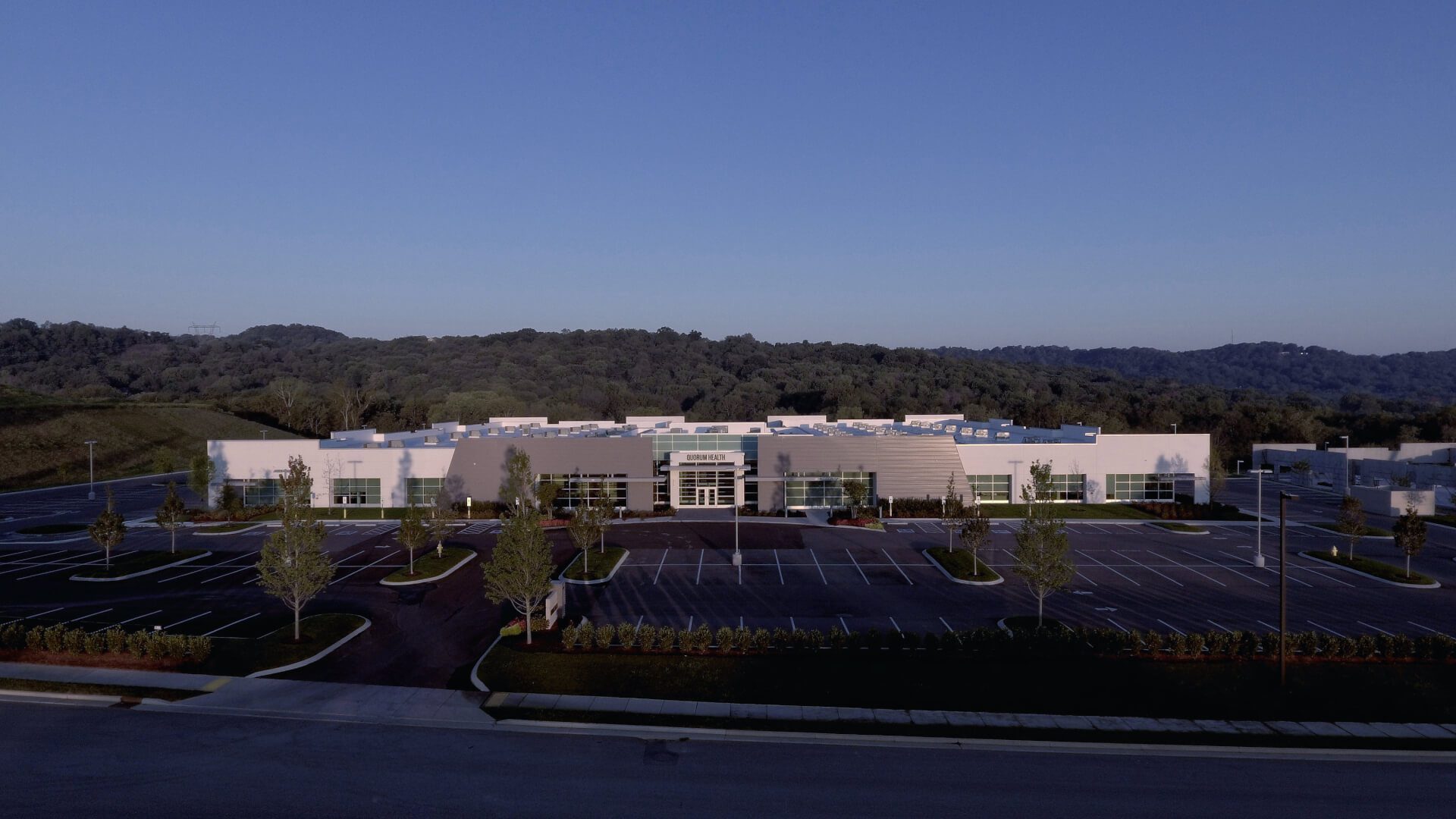 NASHVILLE, Tenn. Oct. 10, 2016 – Southeast Venture has announced the completion of the first phase of a high-density office complex in Brentwood's Mallory Park. The 87,100-square-foot project at 1573 Mallory Lane is now home to Quorum Healthcare Corporation.  The building type is similar to the Healthspring/Cigna Health campus that Southeast Venture developed in Metro Center in 2010.
The Healthspring/Cigna Health complex ­– a 175,000-square-foot build-to-suit project – filled a need that more and more Middle Tennessee employers are facing today.  Finding office space that can accommodate higher parking densities.
 The solution, said Southeast Venture Principal Michael Finucane, is simple. "Put more people in less office space; however, to do that, buildings need to have more parking spaces.  To maximize the efficiency of our project we simply built more parking spaces."
 This increase in office density has become increasingly prevalent since the recession, as business owners look for ways to lower occupancy costs per employee. Beginning with the Healthspring/Cigna Health project in Metro Center and now in Mallory Park, Southeast Venture is providing options to resolve this issue, he added.
 "We had tremendous success with our building in Metro Center so we wanted to take that same product to the Brentwood/Cool Springs market. We saw a real need for higher density office space that, quite frankly, did not exist in this market," Finucane said.
 "Suburban office space typically has a parking ratio that is four parking spaces per 1,000 square feet of office space," he added. "The ratio for our Mallory Park project is six parking spaces per 1,000 square feet of office space. A tenant with 100 employees can rent 16,667 square feet in our project, versus 20,000 square feet in a building with four spaces per 1,000 square feet. Based on current office rents, that's a $100,000 or more savings in occupancy costs per year. In addition, because these buildings have no shared common lobbies, exit corridors or elevators, each tenant only leases the space they occupy, which makes our buildings even more efficient."
 Phase II of Southeast Venture's Mallory Park project broke ground this spring and will include 68,000 square feet of one-story office space designed for multiple points of entry and parking around the perimeter of the building. The shell of Phase II will be delivered in the fourth quarter of 2016 and could be ready for tenants as early as the first quarter of 2017.
 About Southeast Venture:
Founded in 1981, Southeast Venture is a diversified commercial real estate and design services company guided by a mission of "Building Value by Valuing Relationships." The firm provides and coordinates the delivery of brokerage, development, architectural and interior design and property management. This unique, comprehensive approach to commercial real estate offers a cost effective and efficient way of meeting its clients' commercial real estate needs. For more information, visit SoutheastVenture.com, or find Southeast Venture on Twitter @SEVentureCRE.