2014 Middle Tennessee CRE Sectors Outlook
Survey: Retail tops the insiders' list of the most promising sectors
(third of three posts)
This is our last post detailing the results of our CRE survey. Responders were asked to predict how each sector of Middle Tennessee commercial real estate would perform in 2014 compared to 2013.
Retail topped the list of commercial real estate sectors, with 83 percent of responders predicting that the retail sector will perform better or much better in 2013 than last year. Office (75 percent), land (71 percent), industrial (59 percent) and investments sales (52 percent) were also viewed as growth sectors, with a majority of responders expecting better or much better performances in 2014 compared to 2013.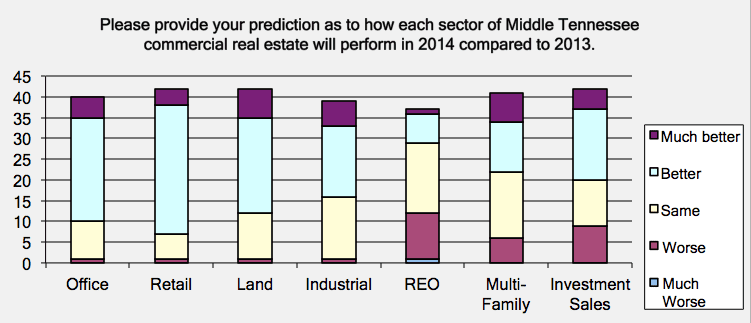 The multi-family and real estate-owned sectors enter 2014 less optimistically, with 54 and 78 percent, respectively, of responders predicting that these sectors would perform the same, worse or much worse than 2013.
Check out the 2014 Sales Outlook.
Check out the 2014 Leasing Outlook.