2014 Middle Tennessee CRE Leasing Outlook
Survey: A Banner Year in 2013 Stunts Sales Expectations This Year; Leasing Polls Strong
(second of three posts)
This is the second entry that outlines the results of a survey that we conducted of local and regional commercial real estate brokers, developers, building owners and investors. The survey asked responders to assess the mood of the marketplace in three categories: sales, leasing and sectors.
The first post talked about sales, this post will focus on leasing.
Commercial leasing polled much better than sales, with 72 percent of responders indicating that leasing will be better or much better than last year. This represents a 9 percent increase over 2013. In 2012, 74 percent of survey takers said that leasing would improve and 79 percent of responders thought that 2011 would fair better than 2010.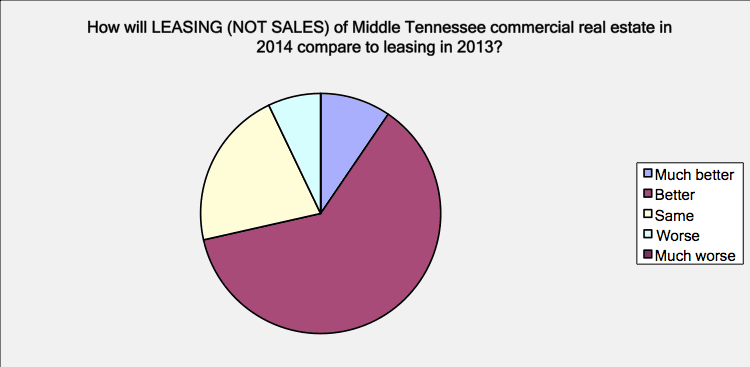 New development opportunities, outside investment and relocations to Nashville were the primary reasons given for the commercial leasing predictions. One responder wrote, "New construction will force more leasing activity and tenants will take advantage of newer space." Another added, "Attractiveness of area for relocations remains high."
"It may have been more than a year ago that The New York Times coined Nashville 'the nation's "it" city,' but that momentum has continued into the New Year," said Todd Alexander, principal for Southeast Venture. "As long at the positive momentum continues, leasing activity will continue to grow, albeit likely more slow and steady."
Seven percent expect commercial leasing to be worse in 2014, which remains relatively stable to 2013 and 2012 expectations of 6 and 8 percent, respectively. Across the board, low inventory was the reason given for negative and stagnant expectations.