2013 Leasing Outlook
Survey: CRE Insiders Optimistic About Sales and Leasing in 2013
(second of three posts)
This is the second entry that outlines the results of a survey that we conducted of local and regional commercial real estate brokers, developers, building owners and investors. The survey asked responders to assess the mood of the marketplace in three categories: sales, leasing and sectors.
The first post talked about sales, this post will focus on leasing.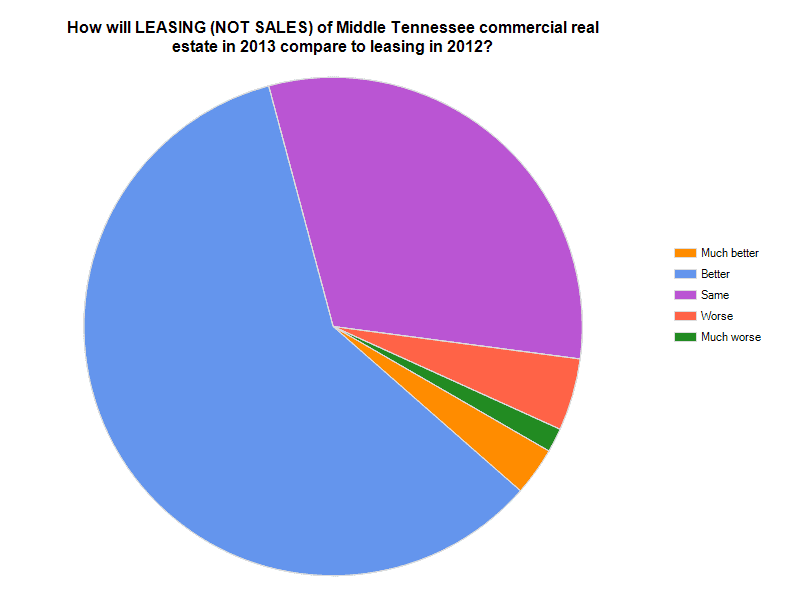 Commercial leasing polled slightly worse than sales, with 63 percent of responders indicating that leasing will be better or much better than last year. This represents a two-year slide—last year, 74 percent of survey takers said that leasing would improve and 79 percent of responders thought that 2011 would fair better than 2010.
Excellent demand coupled with a lack of space, specifically large space, were the primary reasons given for the commercial leasing predictions. One responder wrote, "I believe demand will continue to drive the leasing marketing, but space constraints may mute the absorption." Another added, "There is pent up demand for large tenant spaces."
"With leasing—and with sales—seeing more construction and development in most if not all sectors would be a good thing," said Wood Caldwell, principal for Southeast Venture. "As long as that development is well planned and executed, there's certainly a growing demand to support it."
The improving economy was another popular reason for the majority of survey takers who expect leasing to improve. Six percent expect commercial leasing to be worse in 2013 compared to 2012, that's up two percent from last year's data.