2013 Sales Outlook
Survey: CRE Insiders Optimistic About Sales and Leasing in 2013
(first of three posts)
Last month we conducted our 3rd Annual 2013 Middle Tennessee Commercial Real Estate Survey. Sixty-four commercial real estate brokers, developers, building owners and investors took the survey, which gauged expectations about local sales, leasing and sector activity in 2013.
I am going to present the survey results here, in a series of three posts, beginning with the first category: Sales.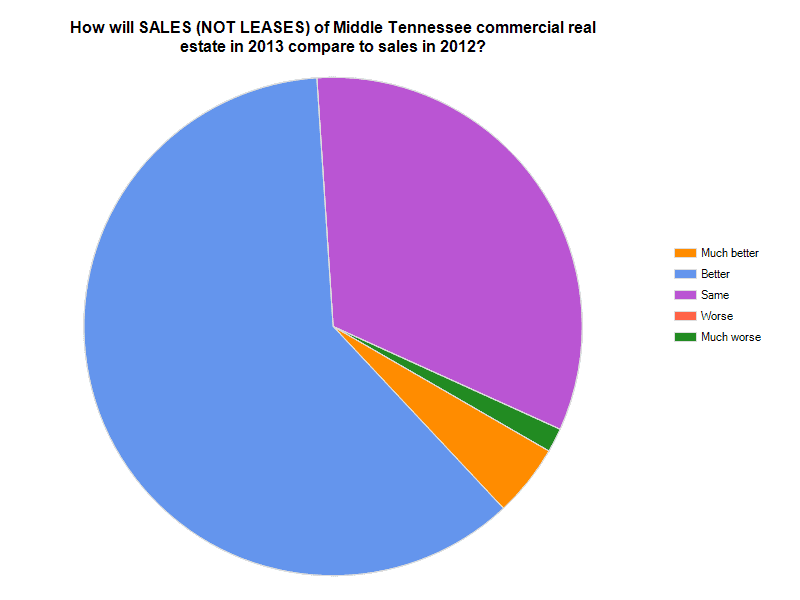 Sixty-six percent of respondents believe that sales of Middle Tennessee commercial real estate will be better or much better in 2013. That's up 2 percent over last year, but down from 87 percent of survey takers from 2011. Thirty-three percent expect sales to be stagnant in 2013 compared to 2012.
Low interest rates and Nashville's attractiveness for business activity were the top two reasons given for the favorable rating of commercial sales. "Low interest rates will continue to support the sales market," one responder said. "Nashville has become a very attractive place to invest," another replied.
Limited supply, a still sluggish economy and changes in the tax laws were the three primary reasons given behind a stagnant or declining outlook.