2012 Leasing Outlook
Survey: Majority Believe Middle Tennessee Commercial Real Estate Climate is Improving
(second of three posts)
This is the second entry that outlines the results of a survey that we conducted of local and regional commercial real estate brokers, developers, building owners and investors. The survey asked responders to assess the mood of the marketplace in three categories: sales, leasing and sectors.
The first post talked about sales, this post will focus on leasing.
Commercial leasing polled better than sales, with 74 percent of responders indicating that leasing will be better or much better than last year. Twenty-three percent claimed no change, and four percent expect leasing to be worse or much worse this year.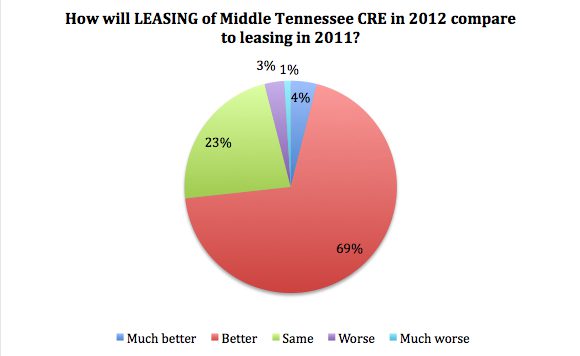 Confidence in the improving economy and increased activity in the pipeline topped the reasons for an improved leasing environment, as well as an improving jobs market.
On the other side of the argument, current low vacancy rates have 13 percent of responders believing that leasing cannot get any better. "There is less space, so activity will be better, but leasing may fall short due to a lack of supply," one responder explained.
The elections, whether good or bad, factored into nine percent of respondents' leasing considerations.
For a bit of perspective, check out our 2011 Leasing Outlook here.