2012 Sales Outlook
Survey: Majority Believe Middle Tennessee Commercial Real Estate Climate is Improving
(first of three posts)
Last month we conducted our 2nd Annual 2012 Middle Tennessee Commercial Real Estate Survey. Seventy-nine commercial real estate brokers, developers, building owners and investors took the survey, which gauged expectations about local sales, leasing and sector activity in 2012.
I am going to present the survey results here, in a series of three posts, beginning with the first category: Sales.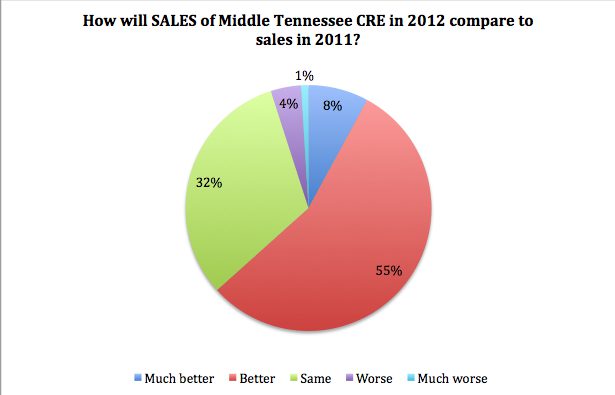 Sixty-four percent of respondents believe that sales of Middle Tennessee commercial real estate will be better or much better in 2012. That's down from 87 percent of survey takers last year. Thirty-two percent expect sales to be stagnant in 2012 compared to 2011.
The election was the primary reason behind the sales outlook, with 17 percent of responders citing concerns about the elections. "The elections are bringing some hope that there will indeed be positive change for businesses and in turn an increase in jobs," one responder wrote. "I know a lot of owners that are sitting on capital until they know the outcome of the election," another added.
Other factors in the sales outlook included an easing in restrictions on lending and financing, the slowly improving economy and increased activity in the pipeline.
When we surveyed our local CRE community last year, a loosening of lending and financing policies was the top reason cited for the optimistic sales outlook. The same is essentially true this year, but the elections are clouding the outlook. We won't know until the elections are over whether the local market will be worse or better off.